Discover more from Megan's Substack
What I Put On Today
Over 8,000 subscribers
Dear Reader,
The cursor is blinking at me and inviting me to write something (anything) about fashion. I feel that fashion is going through an existential crisis of sorts (I blame the boring gimmicks of instagram for clicks and likes, we've all lost interest and I didn't have much to begin) so I'm going to hold on my thoughts until next week. But personal style (and the people we follow for it) will define the next decade of fashion (not brands). We're more interested in how something is worn than what someone is wearing. Everyone is going through something right now (we're still picking up the pieces from the past two years, aren't we?). If you're like me, trying to keep things moving but sometimes find yourself sitting idle at a stoplight wondering what just happened…you're not alone. We've all been through quite a bit. Turning the page takes time.
In no particular order, here's what I put on this week. Questions on anything at all? Please comment here and I'll ping you right back.
I'll be attempting to write this column once a week going forward but may hit some snags as I build and lead the business of Dorsey. Thank you for hanging in there with me. Over the next few weeks I'll add more links to each newsletter (to make it easier to find the things I share that you might want to try, too).
---
Where: The

WhoWhatWear

Women's Day Lunch at Olivetta hosted by

@HillaryKerr
What: A two piece Chanel suit from Albright Fashion Library, a vintage Chanel jacket from TheRealReal, these Onitsuka Tiger kicks, and my 2010 red Chanel handbag from TheRealReal which I've just found for you HERE (mine was 30% less expensive but I'm not sure there's another one on the internet)
Why: It's been raining for weeks in Los Angeles and if I never see another black coat again (until next fall) that would be just fine with me (but I'll admit I've decided orange it not my color either)
Accessories: The Dorsey D.M.J. ring, our double trillion Theodora bracelet in lab grown white sapphire (now on pre-order), and the Cartier watch given to me by my Dad (I plan to give it to my daughter one day)
---
Where: 15 minutes late to breakfast with Lauren Steinberg of

@MyTheresa

at Polo Lounge (I spent the next 15 minutes apologizing profusely)
Wearing: These relaxed Jenni Kayne trousers, this white sweater, and these grey Adidas Gazelle's which I just bought in another color as I was writing this post
On my wrist: Our double trillion Dorsey Theodora bracelet in lab grown white sapphire (now back on pre-order)
---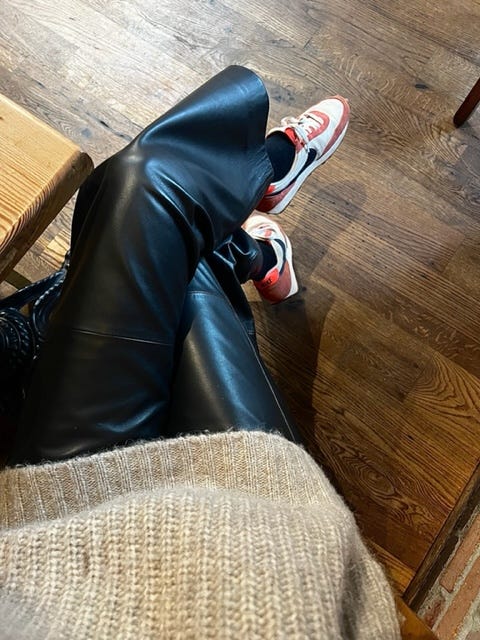 Where: Le Pain on Larchmont
Why: Matcha and eggs for one
Wearing: These leather pants (size 6), old Nike's, and my husbands work socks
---
Where: Dorsey HQ (our undone new office, we're waiting for our furniture to arrive)
Wearing: Re/Done tee, G. Label cardigan, ALC coat (sold out), Marni trousers (sold out) from @MyTheresa, bag from Tod's (sold out)
Neckwear: The Dorsey Bruni Collar
---
Where: Dinner with my husband
Wearing: The Dorsey double trillion lab grown white sapphire bracelet (she sold out but is now back on pre-order, I wear 6 inches in length)
Why: There is a misconception that founding a jewelry company means you're going to stack tons of jewelry on at once (I really prefer to wear only a few pieces at a time - the way Dorsey my grandmother did)
Earscape: The Dorsey Paradise studs in lab grown white sapphire (I'm attempting to get more piercings today, one can never have too many)
---
Not looking to read parent content? The below falls into that category (proceed with caution).
Where: Viv's favorite park (Thursday night at 6 pm) with a coconut tea
What: This utterly perfect set (these pants in size medium and this matching top in size small) for anyone and everyone but especially those of us who spend early mornings pushing our little ones on swings or making breakfast barefoot in a cold kitchen (I don't tend to wear sweats by many brands and this is an elevated school dropoff option)
Alternate view below:
---
Where: Same park, still in the sandbox
Wearing: Neon J. Crew and carrying a packed bag for afternoon of small talk with 200 parents by the slides
Noteworthy: I know that everyone is carrying the boat totes from L.L. Bean but they stain and leak and I have retired them in exchange for my Mark and Graham bag (which I had monogramed with an "S" for our last name because it turns out that at 37 years old I'm the parent who puts our initials on everything) *this is not a sponsored post and I genuinely love this company
***looking for a park blanket? I have this one (see below)
---
Have a gorgeous Sunday morning. I'm going to get a matcha.
All my very best,
Meg Strachan
Founder | CEO | Creative Director @DorseyOfficial
1
On rare occasion I may use an affiliate link in a post and receive a very (very) small percentage of a sale linked through this site.